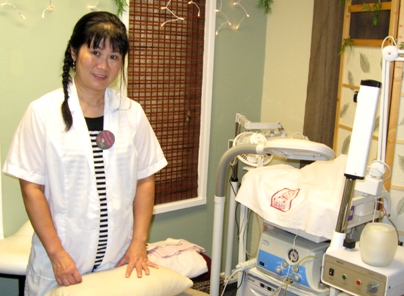 Joanna Lee, licensed esthetician
I'm the owner of Joanna's House of Beauty. I want to thank you for taking the time to visit my site. The following is a summary of my professional experiences & qualifications:
I was truly blessed with the opportunity to work alongside two of the renowned dermatologists here in So. CA since 1998; serving thousands of clients in the Huntington Beach, Newport Beach & Irvine areas. I provided assistance to the dermatologists during non-invasive cosmetic procedures including Glycolic acid peel, Obagi Blue Peels, TCA & microdermabrasions. I also assisted during skin cancer surgeries, excision of moles, cysts and other facial procedures. The experiences & insights I gained from working with them provided me with the fundamental skills & knowledges to understand how to recognize & treat various skin diseases and how to care and keep your skin look its best.
In 2005 I decided to take the first step to fullfill my dream of having my own business. I took a year off to study and received my CA Esthetician License from Career Academy of Beauty in southern CA. My other credentials include:
- Microdermabrasion Certificate from Edge System.
- Microdermabrasion Certificate from SkinScape System.
- Micro-Current facelift Certificate from Micro Light Research Inc.
- Acne Treatment Certificate from Dadashie Inc.
- Skin Growth Removal Certificate from Harmony Beauty Inc.
- Eyelash Extension Certificate from Sassy Lash Beauty Inc.
I value your trusts in me and I will always do my very best to fullfill your needs. My only concern is your complete and fully satisfaction of the service your received.
I look forward to serving you!